The media is full of reports on the progress of the trial. Search "Syncrude dead ducks trial" for updates.
Interesting that the trial of the Syncrude dead ducks case will be held in St.Albert where council – rejecting the support of the Province and Altalink – has decided not share relocation cost of a high power transmission line which has been killing hundreds of migratory birds for years. – Elke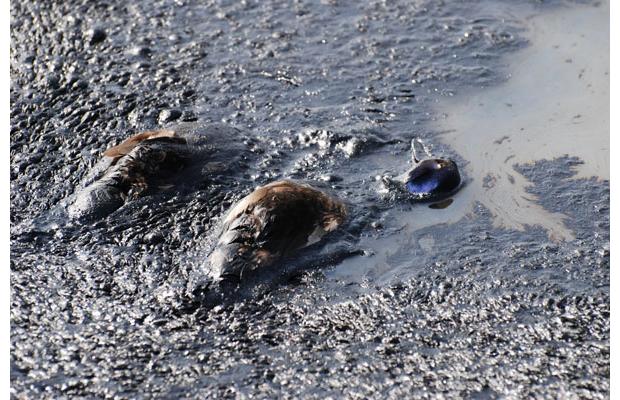 Great timing: as the Syncrude dead duck trial is entering its 7th week, according to a recent CBC story, "Canadian National Resources Ltd Horizon project north of Fort McMurray" has been nominated for an Emerald Challenge Award for their effective migratory bird deterrent program. It includes a 3-km radius radar system like the one used at the Calgary International Airport. As soon as it detects birds in within that radius, noise guns are deployed. Since all the tar sands companies share information, one must wonder why Syncrude is not using a similar system.
Emerald Challenge Award
Horizon's Bird Deterrent Program
Canadian Natural Resources Ltd., Fort McMurray
Horizon's Compensation Lake
Canadian Natural Resources Ltd., Fort McMurray
Alberta's Tar Sands and the Dead Duck Trial
by John Lorinc, New York Times, March 10, 2010
Syncrude Muddies The Waters
by Adam Driedzic, Environmental Law Centre, March 4, 2010
Implications of the Syncrude Duck Trial
by Jonathan McLaughlin, Natural Resources Defense Council, March 18, 2010
Syncrude's bird plan inadequate
by Kevin Ma, St. Albert Gazette, March 19, 2010
Syncrude duck pictures not seen by Stelmach
CBC News, Tuesday, March 9, 2010
Ducks aren't to blame
by Elke Blodgett, Edmonton Journal, March 16, 2010
March 2010-Syncrude Duck Trial
March 10, 2010
Syncrude pleads not guilty in dead duck case
St. Albert Gazette, September 16, 2009
Province should put environment first
St. Albert Gazette, September 16, 2009
Syncrude Canada Ltd. Charged For Migratory Bird Deaths
Feburary 9, 2009, from the Office of the Minister of the Environment
Province lays environmental charges against Syncrude
Feburary 9, 2009
Syncrude cannot duck from charges in death of 500 waterfowl
January 7, 2009