Elke's Peninsula to honour St. Albert river guardian
by Kevin Ma
St. Albert Gazette, December 22, 2010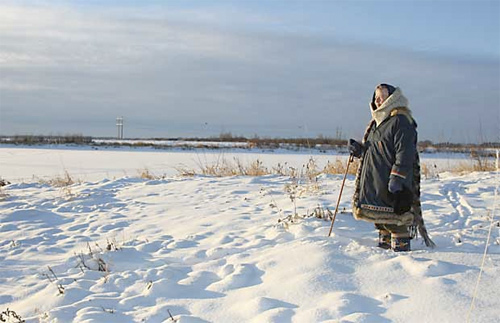 St. Albert's Mother Earth is getting a piece of the Earth named after her.
The City of St. Albert announced last week it would dub the peninsula in Riel Pond as "Elke's Peninsula" in a ceremony this spring. The move honours local resident Elke Blodgett for her years of work as the region's environmental watchdog.
Blodgett is a tenacious environmental advocate and accomplished artist who has made a difference in the community, said Mayor Nolan Crouse. "You don't necessarily have to agree with Elke, but what you have to do is admire her leadership."
Blodgett has done much to raise the community's awareness of environmental issues, says former city councillor Carol Watamaniuk. "She was way ahead of the curve," she says. "Her diligence has not faded."
Watamaniuk said she had initially proposed to name Riel Pond after Blodgett, but dropped that idea as the pond had been informally named after birder Dave Nadeau. Council chose the peninsula instead, as it was one of Blodgett's favourite spots in the region.
Blodgett, known as "Urmutter Erde" (Mother Earth) to some, said it was a great privilege and honour to have a place on Earth named after her. "I'm not going to shut up just because they put [my] name on something," she added, mischievously. "Let my commitment inspire the city to start taking care of our river."
Praise for crusader
A long-time St. Albert resident, Blodgett is often seen patrolling the Sturgeon River and is a perennial fixture at city council and environmental advisory committee meetings.
Blodgett is a dedicated observer of the Big Lake region, said Miles Constable, president of the Big Lake Environment Support Society, and is always on the lookout for bird strikes and changes in the Sturgeon River. "She's been one of the most effective environmental advocates that Big Lake and the Sturgeon River has [ever] had."
Former mayor Richard Plain described Blodgett as one of the most dedicated environmental watchdogs he'd ever met. "The price of a sound Big Lake environment is eternal vigilance," he said.
Blodgett has been involved in several high-profile clashes with developers and councillors over the decades, such as the Ray Gibbon Drive debate and the controversial bird-killing power line over Big Lake. She was also a founding member of the St. Albert Multi-Stakeholder Project (STAMP) group – a now-defunct organization meant to address local concerns about oil and gas wells.
Her actions and clashes with city councils caused the city to do an extensive environmental impact assessment of the bridge over the Sturgeon River at Ray Gibbon Drive, Plain said, and to take action against leachate leaking from old dumps along the river's banks. "It may have been painful in the short run, but we're better off in how we handle environmental issues today in St. Albert."
She's a controversial figure, said Watamaniuk, but she also stands up for what she believes in. "When you take a stand on something, you're not always going to be the most popular person in the community."
Elke's rock?
Council was still working with Blodgett to figure out what to put on the peninsula, said city environmental manager Leah Jackson. The peninsula itself is a frequent home to birds in the summer.
Blodgett said she was hoping for rock with a depression in it that would hold rainwater for birds. She also hoped it would draw attention back to the problems of the power line over Big Lake, which runs adjacent the peninsula.
"I've watched over Riel Pond area for decades and I've seen it turn from a smelly sewage lagoon into a nature conservation area," Blodgett said. "I'm very happy to see the improvements so far, but I expect things to continue."